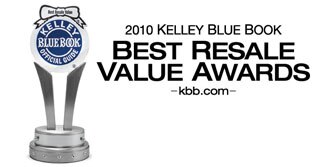 November 24, 2010 – It's no surprise to us but Toyota and Lexus have just been awarded "Best Resale Value" for "Best Brand" and "Best Luxury Brand" for 2010. Toyota has been a benchmark for quality in their 50+ year existence in the U.S. producing the Camry, the best selling car in the U.S. and the legendary Corolla which is the best selling vehicle in the world. Lexus although fairly young in comparison to their parent brand has been making records and creating benchmarks for other luxury car manufacturers to follow. Legendary quality is what makes Toyota and Lexus cars very valuable in their classes. Despite the negative media that they endured, its proven that Toyota and Lexus cars are highly desired in the new and used car market segments. It goes to show that their vehicle values were not affected due to the huge wave of recalls. Congratulations to Toyota and Lexus for the outstanding accomplishments!
This may be the first time Toyota has won our Best Resale Value Award for best brand, but you can be sure they've been a contender every year. Quality, dependability and reliability are key reasons the Toyota Camry is the best-selling car in the country – and why the Toyota Corolla is the best-selling car in the history of the world – and a proven formula for strong resale values. As the country reprioritizes financially, it's not surprising to see continued success for a brand that's built a strong reputation as a smart buy. For those careful with their hard-earned dollars, Toyota makes some of the most appealing vehicles – new and used – on the road.
That Lexus would take home Kelley Blue Book's first Best Resale Value Award for top luxury brand should come as a shock to no one. In the 20 years since Lexus sold its first car, Toyota's luxury division has built a reputation for quality that's positively unmatched in the industry. And it's not just the cars; Lexus owners frequently cite the dealership experience as a key component to their satisfaction and one of the reasons their next car will sport the same circle-L badge. Recently, Lexus has begun to build upon its foundation of quality by infusing its lineup with more style and performance. Lexus also offers more hybrid models than any other automaker.